2010-07-17 22:04:02 by SMARTBRIDE
Dear Coco, we can't wait anymore! Show us some pictures!
If you're dying to see photos of Coco Rocha's recent wedding in France, join the club. Despite some serious googling, there are just no pictures to be had. We've been waiting patiently for her grand unveiling (apparently it's going to be something special), but we simply can't stay stand the suspense any longer.


Here are the few details we have managed to dig up from various sources including various mags and news outlets, Coco's own twitpic account & official facebook page, both her (@Oh_So_Coco) and her new husband James' (@jamesconran) twitter accounts and more. Coco, if you're reading this - please send us some deets - we can't wait any longer!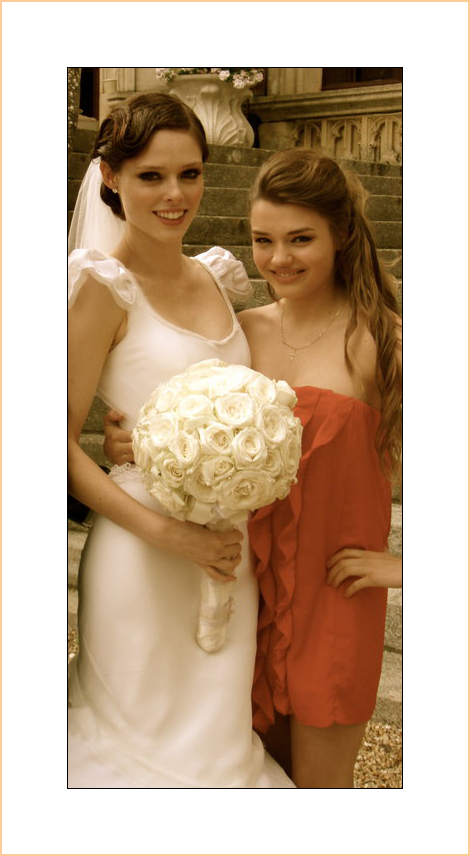 Coco Rocha's Wedding Dress designed by Zac Posen

Read on for more info on Coco's ring, engagement, fiance, venue, invitation and dress!


Let's start with what we DO know:


Who's the lucky guy?


Coco Rocha and James Conran Married June 9, 2010

His name is James Conran. He's an interior designer (that's how they met) from England. He moved to the U.S. in the 90's and is quite an artist. Check out his website (www.jamesconran.com ) and pics of Coco's apartment he worked on.


Wedding Date: June 9, 2010


Guests: 50


Location/Venue: Castle in France where her husband Jame proposed to her

Here's a pic from Coco's twitpic account. We can only assume that RV means "reception venue".


Coco Rocha's Wedding Venue - Castle in France

Engagement & Courtship:
Both Coco and James announced their engagement via their twitter accounts on March 1st, 2010 and of course, Coco updated her facebook status to "engaged". Read Coco's engagement announcement on her blog. Apparently they started dating in the summer of 2009 and were engaged about 6 months later and married just over 3 months later.


Dress:
Designed by Zac Posen (see photo above), Coco's dress was a white, off the shoulder gown with an extreme mermaid silhouette. The material of the dress was described as "vintage" (although we haven't confirmed the actual material) and was tightly fitted through the hips with just the right amount of flow. Just one look at the dress had her BFF in tears that lasted the entire ceremony. We can't wait to see a full length pic of this gorgeous dress!


Ring:


Coco Rocha's Engagement Ring

Apparently Rimmel 60 second nail polish really does work! See more on twitpic.


Invitations:


Coco Rocha's Wedding Invitation

Coco and James' invitations are classic and elegant with just a little bit of Irish inspiration.


Stay Tuned:

Well, that's pretty much everything we could dig up so far! Apparently there was an interview on ET Canada about their honeymoon on July 6th, but it seems to have vanished from the internet all together. Stay tuned, we'll update this post with more information and photos as they are unveiled. In the meantime, check out the cutest tweet from James about Coco "borrowing babies".


Want more celebrity inspired style? Check out: