March 20, 2012, 6 a.m. by SMARTBRIDE
Bride-To-Be: Choosing Your Bridesmaid Dresses
The Bridesmaid Dress....
While all eyes will be on you and your dress on the big day, there are still a few other important dresses to think about... your bridesmaids' dresses!

Photo from Frocks Photo Gallery

When it comes to bridesmaid dresses, there are a million different styles you could choose from - long, short, straps, strapless, plain, patterned..... not to mention all of the different designers. It's almost as difficult as picking your own wedding dress!


Thanks to the princess contest, my decision was a lot less complicated than most. Frocks Vancouver generously offered up three cocktail-length Alfred Sung dresses.


Before I found out about the contest, my bridesmaids and I had already spent quite a bit of time scouring the Internet in search of the perfect dress, or dresses. I was pretty sure we had stumbled upon the right dress when my maid of honour sent me a link to an Alfred Sung dress that I was literally about to send to her!


Keep reading for my top priorities for bridesmaid dresses, as well as 4 tips for choosing a bridesmaid dress!


Top Priorities for My Bridesmaid Dresses


I really wanted:

My ladies to get involved in the dress search. The way I see it, they're the ones that have to wear the dresses and be photographed all day in them!


Something they would be comfortable in, and...


The dresses to be ones they could wear again.

Since I don't live in the same city as my girls, we had to wait a while before going shopping. My original plan was to have all three of them wear different (but similar) dresses in the same colour. I love the idea of doing this – it gives a real uniqueness to the wedding, and lets each of the girls show off their personalities a little more. Plus, it lets them pick a style that looks best for them.


In the end, all three of my ladies fell in love with the same dress I did (I knew I picked them for a reason)!


Even though they will all be wearing the same dress, they'll still be able to stand out from each other in other ways – from shoes to hairstyles. After all, I wasn't about to dictate their entire look for the day!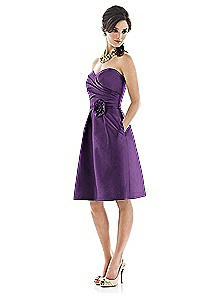 My Bridesmaid Dresses: Alfred Sung Style D498 in "Majestic"

4 Tips for Choosing Bridesmaid Dresses

Go Online for Inspiration: We all spent some time searching online to get different ideas based on what I liked AND what they thought would work. Although there are so many different places to look online it can be overwhelming, it's still a good way to get a feel for what's available.


Start with the Big 3: If you're really confused about where to start, there are a few fairly common designers you can begin with – Alfred Angelo and Alfred Sung and The Dessy Group


Get Input: Don't forget to talk to your bridesmaids and get their input! I believe it's really important for a bride to listen to her maids, since they'll be the ones wearing those dresses, and usually paying for them.


Find the Right "Fit": Since the dresses are a big deal, make sure they match the feel of your wedding. In my case, even though we're having a fairly formal wedding, it's in the spring, so I thought cocktail-length would be appropriate and easier for my attendants to wear again.

Have fun shopping!


Andrea